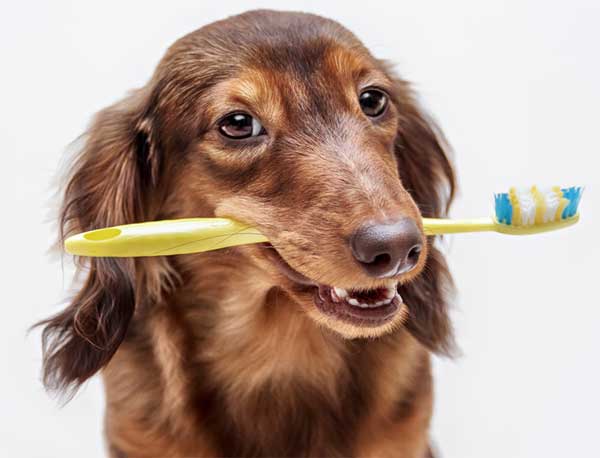 Care: what products are used for care of household pets?
Pets, like humans, require regular dental care. Considering there are no specialized dentists for pets in Serbia, it is important that you take care of the oral health of your pet yourself. You could ask for the advice your veterinarian to get acquainted with the right activities and the best products that are suitable for your dog or cat.
Everyday cleaning
People are not the only ones who need to clean their teeth daily. Household pets need good and regular oral hygiene. It is good to know that dogs have natural holes in teeth, which often lead to gingivitis (inflammation of the gums). The density in the jaw of dogs leads to overlapping of teeth which creates permanent parodonthal problems.
It is possible todaz to find small silicone toothbrushes, very flexible, especially adapted for teeth brushing of our four-legged friends (dogs and cats). To clean their teeth, it is enough to brush gentlz all their teeth. As with humans, this has a crucial effect on preventing the formation of dental plaque, it improves the breath and prevents mouth disease of pets.
Find good food supplements
Maintaining good oral hygiene for pets does not significantly differentiate from us humans. As people need to pay attention to the healthz nutrition, so it is important for animals. In that sense, in order to have healthy teeth and gums of your animal, supplements are needed to help their organism fight against bacteria that can reach the oral cavity.
On the market there is a wide range of pet products that prevent the formation of dental plaque. These products could be purchased either in the form for chewing or for drinking.
https://vunjak.rs/wp-content/uploads/2018/07/stomatoloska-ordinacija-vunjak-dental-clinic-pas-sa-cetkicom.jpg
458
600
bg-devs
https://vunjak.rs/wp-content/uploads/2019/01/stomatoloska-ordinacija-vunjak-beograd-logo-300x13-300x138.png
bg-devs
2018-07-31 05:56:38
2019-01-18 23:48:36
Care of your pet